It was during the cold winter months that a plan was hatched around a roaring fire in the Dunes Tavern, Strandhill. A random call came from a friend, Mark Ballantine asking myself, and a few others to meet for an important reason, a little boy from our village, Donal Parsons, had been diagnosed with a rare form of cancer and needed funds to be raised in order to help pay for his treatment. He was out playing with friends near his home in October and came home with a what looked like a cold. He went to the doctor who referred him to hospital, and thats when the bad news came. He had to fight for his life as cancer was spread through his tiny body.
The group assembled around the pub table was a rag tag bunch of surfers, family men and adventure sports enthusiasts all with a common want to help this poor little guy who was fighting for his life in hospital. We spoke long into the night about different ways to raise money, and as importantly awareness of Donals fight.
Eventually we settled on a plan of a grand scale, to Stand Up Paddle (SUP) the Cliffs Of Moher from Doolin in the North to Liscannor in the South. A rough estimate of distance was in and around 20km. We chose this route for a few reasons: to prove it was possible, to show the world how beautiful a location it is from water level, because its a battle of stamina and ocean knowledge and because we wanted to get photos and video to entice the worlds best into coming over to race the route in 2015 with the aim of raising more money each year for the cause.
Long distance ocean paddles are nothing new, but ones that run underneath 200m high cliffs are.
After lots of internet chats and countless more meetings we were nearly ready to go. We all knew we were up for it, and had the energy, skill and safety in place to finish the gruelling paddle but one thing we could not control was the weather.
We decided to wait it out, a paddle of this magnitude and beauty deserved our patience. We had to wait for the most perfect day possible to attempt it and come home with the best media possible.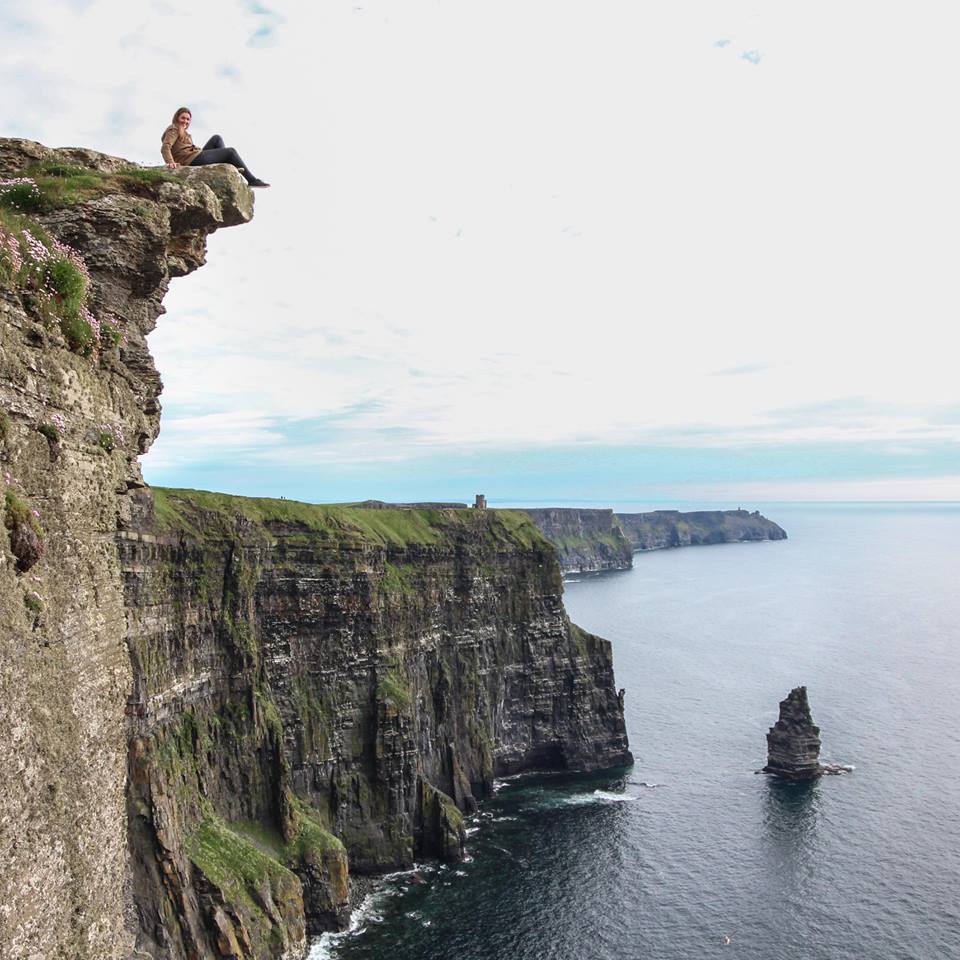 The weeks ticked by with a few B-Grade days passing under the radar, the fear of summer kicking into gear was upon me as I knew I would get too busy to take time off for "leisure" activities.
One day last week I was checking bookings for Sligo Kayak Tours when the ping of a facebook message came through. It was Seamus "Shambles" McGoldrick and he had spotted a good run of light winds and favourable sea conditions. We are both well used to looking at wind forecasts and swell heights as we're surfers but to see a chart like that was almost too good to be true.
Three days of flawless weather with zero swell and light easterly winds were forecast and we picked the middle day, a Tuesday. We put the message out and the troops were rallied. Things moved very quickly after that, with lists of lists being made, boards and safety equipment being double checked, and logistics being set up for when we reached Co. Clare.
I was working until the last minute and drove down to Clare towing 11 SUP's on a trailer behind my van, arriving at night I knew the next day would test us to the limit so I did what any good long distance paddler would do, I layed out all the lifevests I could find on the floor of my van and slept happily for a few hours on top of them!
The next day dawned misty and calm, as predicted. The slipway in Doolin was buzzing with activity. Foreign tourists were lining up to board the Aran Islands ferry whilst I was reversing the trailer down the slipway, jetskis were launched and safety boats cleared. We had a final safety brief and one final look at dry land and pushed off, knowing we would not stop paddling until we reached our goal. All the planning and late nights were behind us now, all we had to do was find the rhythm and paddle.
The first leg from Doolin to the start of the cliffs was very testing, the early morning mist was being burned off by the sun, and a land breeze was chopping up the ocean. The going was tough but we made progress into the wind, deciding on waypoints that would afford us the most shelter from the wind under the towering cliff line.
The sea was really clear, with a visibility of at least 20m. At one stage as I neared the cliffs I was looking down on layers of huge jellyfish, purples and pinks that stretched into the darkness of the depths. A truely beautiful sight. Just as I was getting lost in my dreamworld my walkie-talkie crackled into life. It was Dave O'Hara of SUP for All saying that he was out of the wind and at the head of the pack under the cliff line, that conditions were perfect, and that he would wait for our arrival before carrying on southwards together.
We pressed on and as he said we arrived to sheet glass crystaline water at the foot of the mammoth cliffs. We were spellbound. There was nothing else to do but take it all in, to stand in awe of these sentinals of the sea. We swam and ate some sandwiches, got some photos and then pressed on.
Shambles and I are regular visitors to the Cliffs of Moher, both of us go down to chase the wave at the bottom of O'Briens Tower, Aileens. Its a treacherous place for a wave to break, but also a beautiful one. The scale of the place, and of the huge atlantic swells smashing the reef are something that keep us coming back time after time. We both have respect in truckloads for this stretch of coast and I remember us commenting about how we had never seen "The Cliffs" in such a playful mood. Not a breath of wind, and no swell, just glassy smooth water, like paddling above a giant fishtank.
As planned once we rounded the surf break known as "Laurens" we met up with legendary surfer Fergal Smith who was sitting on his surfboard 300m out to sea, cool as a cucumber. He had taken time out of his busy schedule of vegetable planting at Moy House to walk down the only entry point of the cliffs, the infamous "Goats Trail" and meet us. We chatted for a while and he wished us a watery good luck for the rest of the voyage.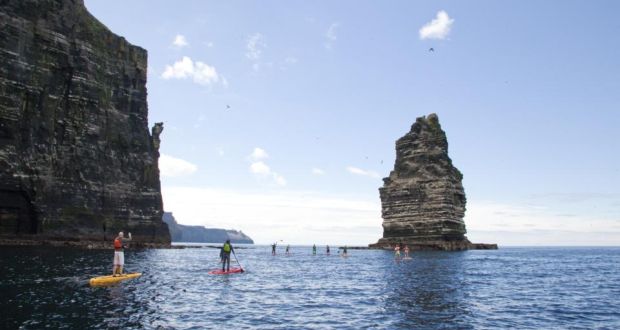 On and on we paddled passing under sea stacks that would dwarf buildings, we explored giant sea arches and caves with the energy of excited children, knowing that we were probably the first humans to ever have seen deep inside them. The thought of being 200m underground, floating on a board, with probably another 50m of water below us would sometimes get too much and it was not uncommon to hear someone yelp or squeal out of pure joy.
The craic was great down there, we were turning a wild dream into reality and theres a special energy around when that happens, one that you can't pay for on any rollercoaster or fun park ride. Its a feeling that burns hot in your core. A primal feeling of the frontier, of dreams realised.
In places the water looked like the Bahamas, crystal clear with giant white slabs of rock on the ground, bouncing ludicrous light back up at us, and turning the algae on the walls of rock into colours so vivid that I had to put on sunglasses just to look at it. I lost count of the number of times I could not believe my eyes that day. It was like paddling through a giants world, where everything was magnified 1000 times in size, where for once us humans with our big egos and fast cars meant nothing, absolutely nothing in the grand scale of things.
The thing I did not know about the cliffs was the amount of sea caves down there. Normally when I'm there, the base of the cliffs is a pure demolition zone of swells colliding and foam spray, even the sea birds stay high above on the cliffs, looking at the carnage with knowing eyes. But today the sea caves were inviting us in, with entrances high enough to fit two double-decker buses into and as wide as a rugby pitch, we once again felt dwarfed.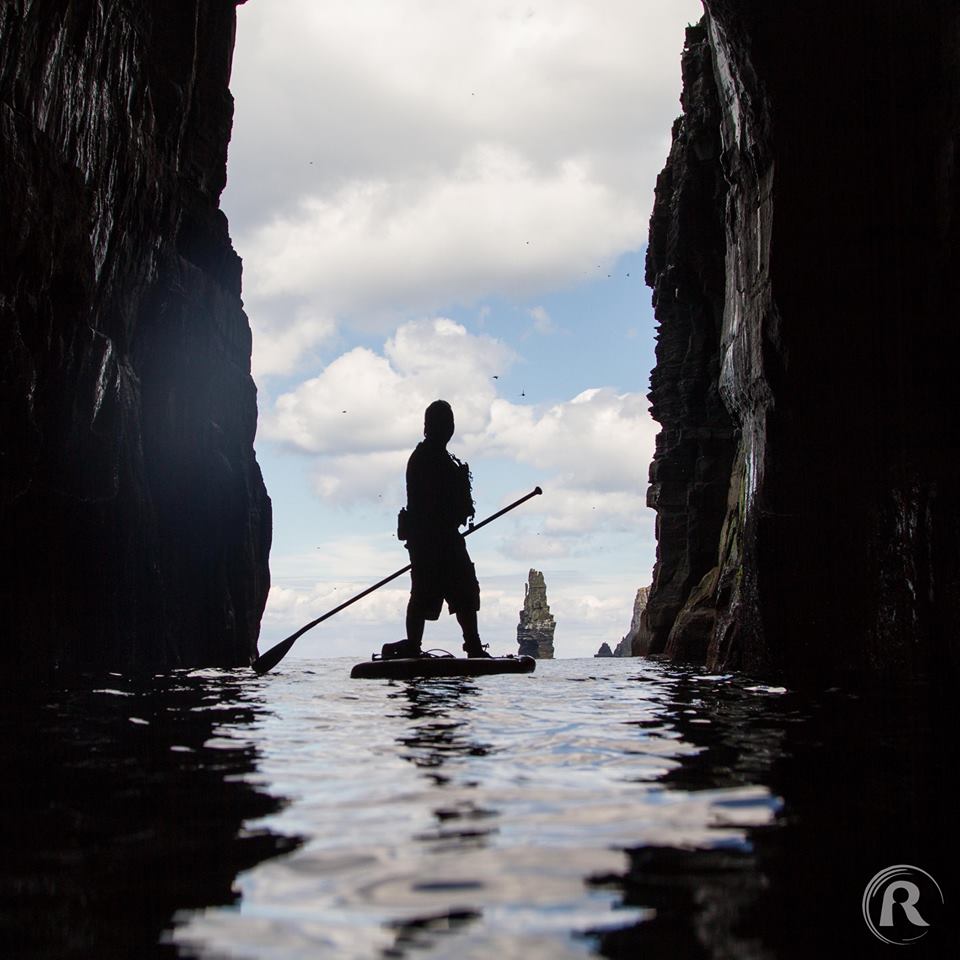 National Geographic would fill a magazine with images of these seldom seen places, of birds diving off the cliffs, splashing into the water and swimming under us, bubble trails and sparkling zephyrs trailing off their wing tips. Its a place you just have to see to believe.
As amazing as it was we had a job to do and at this stage had been on the water for about 5 hours. We knew from the maps that the worst was to come and after the last sea arch at Hags Head. A long slog of 4km where the cliffs gave way to the sleepy fishing village of Liscannor. The going got tough here because we could see the end, and the land was now low lying. The wind was breezy out of the East whistling over farms and the slabby limestone shale of Clare and we were heading into it.
Once again all we could do was find the rhythm. Paddle, breath. Paddle, breath. Paddle, breath.
I'm sure we all went into our own mental struggles on that stretch, thinking of Donal, of his family, of their futures, of our futures, of times spent as a kid, and how lucky we are to have had them. How precious this life is, and how to live it fully, to appreciate what we have and to take nothing for granted. I was deep in thought when I noticed Dave up ahead turn into a little cobblestone bay, and paddle up to the beach. He stepped off his board and sat down on the rocks, it was the end.
Eight and a half hours and 24km of paddling along one of the most inhospitable yet beautiful coastal stretches in the world was done, I came in next to him and we spoke whilst the others drifted in, we laughed and we marveled at what we'd just seen. The scale of it all hitting home fully now that we could look back at it.
I would like to thank the amazing team of people involved in all aspects of this adventure. From the core team of Dave'Ohara, Mark Ballantine, Shambles McGoldrick and Shane Meehan to the other paddlers who dropped everything to chance it all. Deepest thanks. Also thanks to Pat the safety boat driver, David and Donough, Peter Clyne, Peter Martin, Fionn Rogers and Collin Gillen, and Paul Hiney for the Accommodation. Also to the Parsons Family. From the very beginning we never took no for an answer, and you all shared our vision.