What is an adventure capital? Well, that depends on what your definition of adventure is. As an adventure activity provider in Sligo, we get to see lots of people coming to kayak and one look at Google analytics tells us that these people come from all walks of life and all parts of the globe. What might seem tame to a Canadian firefighter might seem very extreme to someone who works a desk job five days a week in a Hong Kong. It is with this in our minds that we go to work every day, to make sure we show off Sligo in all its different hues, so that people, no matter what their backgrounds or professions can find something to relate to, to be inspired by.
On Saturday 28th March in the Sligo Enterprise and Technology Centre a team of forward thinkers including Denise Rushe of
Starling Digital Media Direction
, Allan Mulrooney of
Thinkhouse
,
Allan Dixon
from "The best job in the World" fame and the ever helpful
Sligo Leader Partnership
came together to launch a social media campaign called #Adventurecapital. The aim of the campaign is to showcase Sligo' unique landscapes, culture and overall visitor experience to the world through claiming the title of the Adventure Capital. The term Adventure capital spawned from Sligo' well travelled activity providers, who after years of globe trotting came back to Sligo to set up their respective businesses and realised that our natural amenities and dramatic landscapes were as good as anywhere in the world, if not better, due to the fact that the area is largely only being discovered by foreign tourists now. This feeling of discovery, of being some of the first to do activities in the area is what we as providers are proud of. If you type #adventurecapital into any social media tool or www.tagboard.com you will quickly see that whilst Sligo is pitted against some big players worldwide, one being Queenstown in NZ, we are quickly taking over the stream, and the usage of the term Adventure Capital. Up until now this has been achieved through a few people using the hashtag in all of their online posts, and through this means alone we have been slowly cementing the fact that we as a community mean business. The official launch hopes to inspire many more to start using the hashtag in their online posts and photos which will then become the 'motto' or 'tagline' associated with Sligo forever more.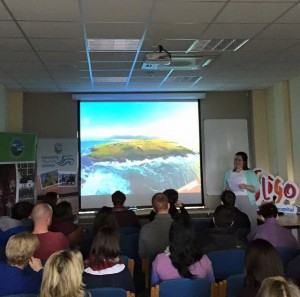 The usage of the hashtag will enable activity providers, hoteliers, and even non tourism related businesses to correlate the increase in their sales with the usage of the hashtag, as all the tagged posts will be stored in one place online, making it easy for everyone to gauge the effectiveness of the campaign. It is important to note that this campaign will not only benefit tourism related business, but every business within the county. More people coming to County Sligo will mean more money put into our local communities, and it will filter down through all spectrums of business. The campaign is not a short term fix, but rather the first stage of a well thought out plan which involves centralizing our visitor' booking experience, improving the activities on offer, and showcasing a vast range of activities and businesses from bakeries to B&B's, surf schools to salons, and fleadhs to farmers markets.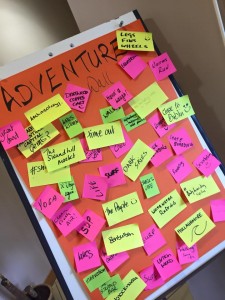 At the heart of the whole campaign is one emotion, Pride. We all know how fortunate we are to call this beautiful part of the world home and to encourage others to come and experience its unique beauty is an obvious benefit for the whole local economy. So next time you snap a picture of your dog on the beach, or get a selfie atop Knocknarea please #Adventurecapital it when posting to your social media channels. You'll be surprised at how quickly this campaign is going to gain momentum if everyone does their bit.