Our Roots
Sligo Kayak Tours is a small, locally-owned and operated business which strives to be an industry leader in sustainable tourism. We are committed to giving our clients an authentic, enriching experience through which we hope to foster a love for the natural world and conserve it for future generations.
Whenever possible we keep our groups small in an attempt to minimise environmental impact on the fragile ecosystems that we visit, and to build a stronger personal connection to these places.
Paddling in a small group ensures clients get an authentic wildlife experience on our tours. It also helps to minimise noise and stress placed on all those living in the natural environment.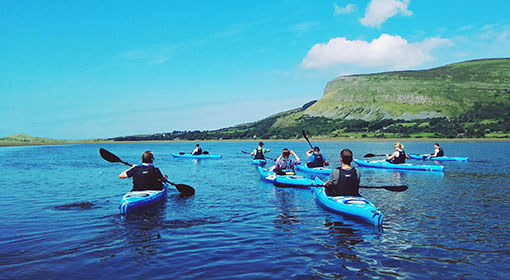 Your Guides

Owner Barry Mottershead grew up in Cape Town, South Africa. His life revolves around the outdoors and the ocean and at the age of eighteen he came to Ireland on a surfing holiday and fell in love with the culture, waves and scenery of Co. Sligo.
He has lived in the area for 10 years and is passionate about exploring the coastline and mountains that are on offer. An enthusiastic, friendly and knowledgeable attitude makes Barry the perfect guide for your sea kayaking adventures.
Barry has the following marine-related qualifications:

Level II ICU Kayak Instructor
Rescue Emergency Care First Aid Certificate
ISA Surf Instructor
ISA Surf Lifeguard
Child Protection Certificate
RYA Yachtmaster
STCW 95 Certificate
Professional Big Wave Surfer
Caroline Finn was born in Sligo and started kayaking 12 years ago whilst studying in UCD. She has spent a few years living in South Korea and Kosovo where she taught English. She is now back in Ireland and is currently studying Occupational Therapy and spends a lot of time outdoors enjoying running, cycling and hiking.