Not everyone has had the pleasure of getting out to enjoy nature on a kayak.
The information below will help you get the most from your kayak tour.
Kayaking is a form of paddling where the user sits into the boat and uses a two-sided paddle to propel themselves through the water.
Kayaking is a very safe pastime, our kayaks are purpose built for stability. No experience is required for our kayak tours, our trips are designed to cater to all levels of experience and abilities. The majority of people who join our tours are first time kayakers.
There is no maximum number for our tours, however we prefer to keep our groups small. This ensures that our environmental footprint is as light as possible, and that everyone has an authentic wildlife experience.
Sligo Kayak Tours caters to all ages of paddlers - people from ages 8 to 85 have been comfortable on our tours. Those concerned with being in 'their older years' please contact us to discuss their physical abilities. Generally we like paddlers to be over the age of 10 but where parents are present, its fine for younger children to accompany them.
You will need to bring the following with you: Towel, spare change of clothes, an old pair of running shoes that can get wet or wetsuit boots, a warm jumper or hoodie, a sunhat or warm hat depending on the weather, suncream, sunglasses.
On the day you will be supplied with the following: Kayak, Life jacket, paddle, splashproof jacket, spraydeck and wetsuits will be provided during winter months and on more demanding paddles. We will also provide you with a drybag to store your important items such as mobile phone, car keys, wallet.
If its raining we will still paddle, within reason. The main element that will hinder us on the water is the wind. Our kayak routes are designed to be paddled in just about any wind direction and still offer the paddler a pleasant trip, although as the weather is changeable we try to make the call either a day previous to your paddle or on the morning of the paddle. We will notify you of the decision by calling you on the telephone number supplied at the time of booking and you can reschedule for another day.
Due to demand, if you cancel more than 48 hours before your paddle we will refund your booking fee. However if your cancellation takes place less than 48 hours before your scheduled paddle, we are more than happy to reschedule your paddle for another day.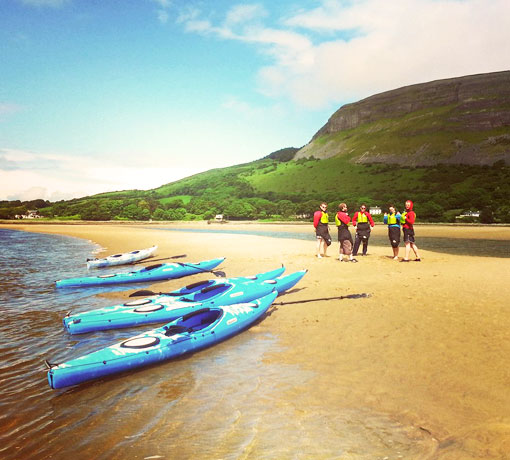 WOODLAND WILDERNESS CAMPING FAQ
We will meet at 10am on Saturday morning and begin to pack our kayaks before heading out for the night. We aim to be back again on Sunday at 15:00.
We leave from Sligo Kayak Tours HQ - (map link) where you can leave your vehicles securely locked for the night.
We aim to be there by 16:00 on Saturday. We will stop for lunch half way so the journey is broken up into two stages. It's a longer paddle than our normal tours but still easily within reach of a first time kayaker, our pace is easy and it's all about taking in the scenery and enjoying yourself over the two days. A moderate fitness level is needed.
All your gear for the trip will need to fit into your kayak. We will spend time packing on Saturday morning and organising gear into the various holds in the kayak. You will need to pack your gear from your suitcase/backpack/vehicle into drybags and then into your kayak. We will supply dry bags for you to use. Bring along two or three full changes of clothes, headtorch, comfy camp shoes, rain jacket, sleeping bag, swimming gear, toiletries, snacks, medication.
Included in the price is a packed lunch on day one and delicious wood fired pizzas that evening. On day two we will provide a healthy breakfast the next morning and lunch that afternoon.
We aim to run our tours in all but the worst of weather as the essence of getting away to nature is all about immersing ourselves in the elements. Saying that we take safety as a primary concern and in situations with high winds forecast for the whole weekend we will arrange a taxi drop off to the woodland and will either run two shorter day tours from there or paddle back on Sunday from the campsite to our cars at HQ. We are able to have a solid grasp on the weather forecast a few days before the tour and will inform you of the plan as soon as we can.
Due to the nature of this tour we can only accept people over the age of 16.
We provide all your kayaking equipment including drysuits and drybags, and on the camping side of things we provide spacious four person Tipis, inflatable ground mats, pillows, crockery, cutlery, mugs, bowls, plates etc.
The minimum number of people needed is 4 people, we cap the numbers at 12 so we can limit our impact on the land and ensure a quality experience on the tour.